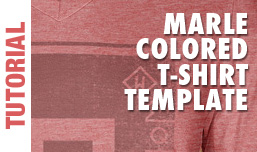 In this tutorial we show you how to add a marle fabric swatch (or any fabric for that matter) to a t-shirt template file in 6 super fast steps. Adding a fabric swatch to your template opens the door to even more possibilites with what can be done with an apparel template file. For example, imagine an e-commerce store that sells t-shirts in many different colors (including grey marle). Now, imagine a guest coming to your website and being able to view all the different color options. To set this up would take hours of photographing every different colorway and touching up those photos. Forget the photography, use a template. Nike do it and so can you! Here's how it's done.
Preview of Final Results
What You'll Need.
Photoshop CS or Newer required. Estimated finish time: 2min.
 Download this tutorial in PDF format (10.2 Mb) 
STEP 1: Open the ghosted t-shirt template file
Note: All Prepress Toolkit Photo Real Ghosted apparel templates are designed to be used with Photoshop CS or newer software versions. Some PrePress Toolkit Photoshop templates use Smart Object Layers which are only available to users with Photoshop CS3 and newer. For users with Photoshop CS and CS2 you can convert these smart object layers into regular layers. Smart Object Layers are not necessary for this tutorial.
Continue reading Marle colored t-shirt design template in 6 steps.