Apparel Studio Pack 01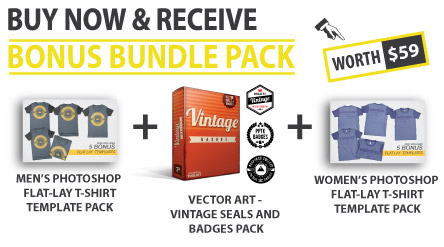 Download Size:
417.9 MB
File Type(s):
ZIP, JPEG, TIFF, AI, EPS
Software Version:
Photoshop CS3 + Adobe CS3/Corel X3
Quantity:
11 Items
Layered:
YES
Vector:
YES
Licence:
Simple Licence
Whether you are starting a clothing label or just want to improve the way you design for mens apparel, we've bundled the BEST PrePress Toolkit products into one awesome pack!
This pack contains:
3 x Photorealistic Mockup Templates Packs
Men's flat lay t-shirt template pack
3 x Vector Mockup Template Packs
Tech Pack – Approval Jobsheet Pack
Fast instant download!
** Please see the description tab below for full product information.
What's In The Download Pack?
Apparel Design Studio Pack 01
This epic bundle contains
3 x Photorealistic Mockup Templates (in PSD format)
– Men's ghosted t-shirt template pack
– Men's flat lay t-shirt template pack
– Flat Peak cap template pack (snapback + Flexfit)
3 x Vector Mockup template packs (in AI + EPS format)
– Ultimate Vector Mockup Pack
– Mega T-Shirt Mockup Pack
– Hats n Caps vector mockups
Vector Art Pack – Vintage seals and badges
Texture Pack – 300dpi Photocopy textures
3 x Tech Pack
– 2 x Artwork Approval forms
– Designer Art Sheets
– Screen Printing Jobsheets
Please note: This is not stand-alone software, this mockup template is designed to be used with Adobe Photoshop (CS3 and newer software) and Adobe Illustrator (CS and newer software)
About Product:
Whether you are starting a clothing label or just want to improve the way you design for mens apparel, the Apparel Studio Pack 01 contains everything you need to get your designs created, mocked up and send off to your screen printer.
Delivery
All PrePress Toolkit artwork and apparel templates are for digital download. We package the files as a ZIPPED (.zip) folder containing all artwork and important information pertaining to your download, we even include video tutorial for most of our products so be on the look out for them!
Two Ways to Download
1. Once you have completed the checkout process you will be email (straight away) with your download link(s) to the email address you leave during the checkout process.

2.You can also access any purchased products from your very own MyAccount at any time, day or night, 24 hours 7 day's a week. We will set up a MyAccount page for you the first time you make a purchase. You're MyAccount page is super convenient for those times when your computer crashed and you loose all your files..don't laught, it happened to a friend of our just last week, but you can rest assure you're purchases will be ready to re-download whenever you need them.
Customer support
If for any reason you are having trouble accessing your downloads please do not hesitate to contact us on our contact page. We garuntee someone will contact you within 48 hours, but it's usually much MUCH sooner than that!