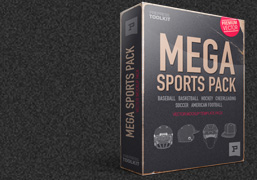 After 3 Months of planning, designing, refining, and perfecting, the PrePress Toolkit is proud to offer an all new set of vector mockup templates.
Building on the success of our original vector templates, we have stuffed a whole new set of sports apparel into one huge pack we hope you'll love!
The reason for spending so much time creating this mockup set is that we are hell-bent on providing the highest quality vector templates on the web. We think these are our best yet, but we'll leave that up to you to decide.
Without further or do, we present to you….the Vector Mockup Template – Mega Sports Pack!
1. Baseball Uniform mockup template set.

This baseball uniform pack contains: Baseball uniform short-sleeve top, uniform top with long-sleeve, baseball cap, baseball helmet, and a bonus baseball bat. We think you'll love the attention to detail.
2. Soccer uniform mockup template set (football jersey template).

This Soccer uniform pack contains: 1 x Collared V-Neck football jersey, 1 x Open Collar football jersey, 1 x V-neck football jersey, 1 x regular collar football jersey, and 1 x Soccer Shorts. All mockup templates come with front and back profile views.
3. Hockey Uniform Mockup Template Set.

This Hockey Uniform Set contains: 1 highly detailed hockey top jersey with front and back profiles, and one Hockey helmet set. These templates are just screaming for a great center chest team logo and with the high level of detail it's sure to impress your clients.
4. Cheerleading Uniform Mockup Template Set.

This Cheerleading Uniform set contains: 5 detailed cheerleading tops and 6 detailed cheerleading skirts. Why go with a basic garment outline when you can show your clients what their new design will look like on a variety of premium uniform templates.
5. Basketball Uniform Mockup Template set.

This Basketball Mockup Template set includes: 1 x Basketball jersey top (front and back profiles) and 1 x Basketball shorts (front and back profile). This set is exclusive to the Mega Sports Pack and comes as a free bonus!
6. The American Football Jersey Template Pack.

The American Football template set includes: 1 x Football jersey template (front and back profiles), 1 x Padded Football Shorts, and 1 x Football Helmet mockup with two different side views. A mean looking set for any football team.
All sets can be purchased individually but we have bundled them all together to save you loads of time and money.
Have questions or want to give some feedback? Post them below in the comments field.