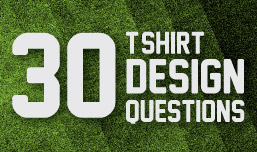 Excelling in client communication is the key to delivering a graphic design that exceeds clients expectations, positioning you as a leader in the field of Apparel design, and hits the target market smack bang on the head.
It takes little time to ask the right questions if your know what to ask, and will safely guide you from accepting the job through to final design delivery and money in the pocket. Don't fall prey to the number one designer downfall of diving head first into the design phase without truly understanding your client.
To combat this designer flaw we have compiled this list of questions you may like to ask your next client to better understand them, their clothing label and target audience. We hope this is a great help to you and your freelancing or design department.
Company/Brand Details
1.  What is the name of your clothing label?
2. When was the brand established?
3. Who is your main competitor?
4.  What makes your brand different from your competitor?
5.  Where are your products sold?
6.  Where do you see your brand in 5 years, 10years? 50years?
7.  What motivated you to start your business/clothing label?
8.  If you had to describe your clothing label in one word, what would it be? Why?
9.  Does your label have a slogan or tag line?
10. Do you have a corporate logo or font I should use?
11. Do you have a branding guidelines package we should follow?
Design Preference
12. Do you have a preferred colour pallet? Why?
13. What colour garment/s is the design to go on?
14. Where is the placement of your design to be printed, also, does any additional placement require different artwork,? Please list.

FRONT
 BACK
 LEFT SLEEVE
 RIGHT SLEEVE
 HIGH-BACK NECK
 BACK BOTTOM HEM

 15. Are there any competitor t-shirt designs you like? Where can I see these?
 16. Will the design be printed on more than just a t-shirt? E.g. Fleece Hoodies?
 17. What is the size range of T-shirt the designs will go on?
Target Audience
18. What is the age range of your target audience?
19. Is your clothing label for Men? Women? Unisex?
20. Where do most of your customers live?
21. What is your main form of advertising?
Budget / Timing
22. What will be the recommended retail price for your t-shirt?
23. How much money do you plan to dedicate to the screen-print production of the design?
24. When do you need delivery of final design? 1 Week? 2 Weeks?
25. How many preliminary concepts would you like to see?
BONUS
Add this 'email us checklist' to your next client communication email and get the important files straight up, saves so much time.
Checklist of things to email us.
Your Logo (specify what file format)
Your Branding Guidelines Package (if you have one)
5 or more existing t-shirt designs you like and why?
MORE BONUS QUESTIONS
(to potentially bring you more work)
26. Do you require swing tags?
 27. Do you require internal neck labels?
 28. Do you need assistance in defining the target audience of your brand?
 29. Are there any further design related tasks I can help you with?
 30. Do you know anyone else who needs a t-shirt graphic designed for them?
What other questionas have you found useful when preparing for a t-shirt graphic?
Please share.