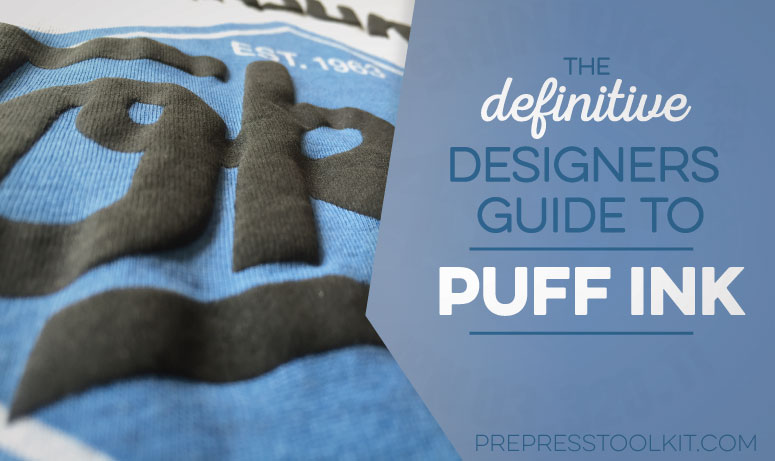 Puff Ink is a standout favourite, literally!
Puff ink (as the name implies) expands on all sides once exposed to heat at 310°F (155°C). This specialty screen printing ink is created by combining regular plastisol ink with a puff additive.
There needs to be enough puff ink laid down on a garment in order for it to expand enough to notice, a general rule of thumb is so not have any lines or small details in your artwork that are less than 1pt.

Before puff ink is exposed to heat, it sits flat on the garment like any regular plastisol ink. Heating the finished design (usually by sending the garment down a curing oven) will activate the puff additive and enable the ink to rise and expand about one to two millimetres on all sides.
Visually, puff ink has a rough texture, however it feels soft and rubbery to the touch.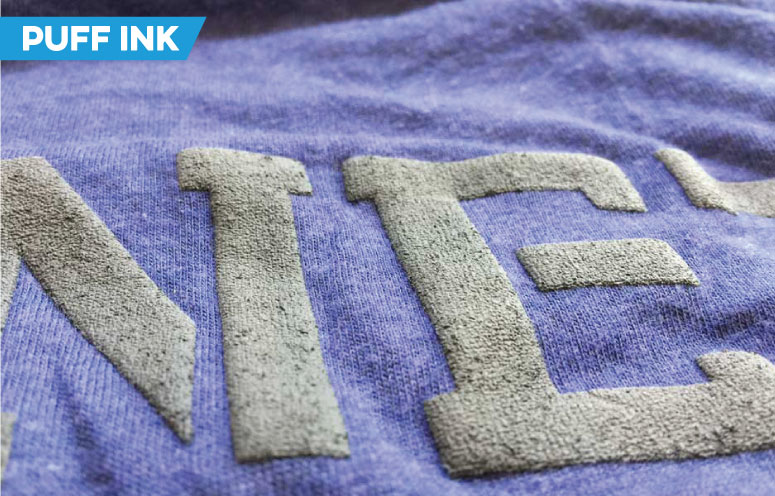 ---
Creative uses of Puff Ink in apparel design.
Because Puff ink doesn't expand until heated, it actually lends itself to be experimented with in a variety of ways. Here are a few ideas that we have seen and utilised in garment graphics that go beyond a simple one color design.
One Color Texture: Inject some interest in flat areas of a design by printing a texture through these areas in puff ink. This technique really adds visual interest to a finished garment.
We've seen this approach utilized in 1 color designs, where the main artwork is printed in regular plastisol ink and a texture is printed over the design in puff ink using the exact same color. Up close, the texture pops out at you and adds depth to the artwork, while from afar the puff ink blends into the design.
My imagination goes to thoughts of running a large halftone dot pattern or a zig-zag texture through what would normally be a flat color area. There are so many ways you could utilize this idea.
Text Outlines: Puff ink is great for use as a raised keyline around text. Check out some samples of this below.


Puff Gradients: I didn't think it was possible until I saw it firsthand, a 3 color halftone gradient printed in puff ink. By thinking outside the box, the designer was able to take a simple typographic logo and inject visual interest, tactile feel and a higher perceived value for the garment in one ingenious print.

---
Advantages of Puff Inks
Puff additive can be added to any Plastisol ink color, this includes any color from the Pantone matching system (PMS) solid color guides
Less labor intensive than High Density Ink printing, therefore should be less expensive (consult your print factory for exact costs)
Can use multiple puff ink colors in the one design
Works well with large surface area prints
Can be printed in conjunction with a wide selection of other inks and effects
Hard wearing, will not crumble and flake off
Disadvantages of Puff Inks
Not good for use in fine detailed artwork. Artwork should only contain line weights of 1pt or greater. Halftone dots can be no finer than 20lpi
Can not be used for image (raster based) prints
Can not be printed alongside, foil, flock or high density print effects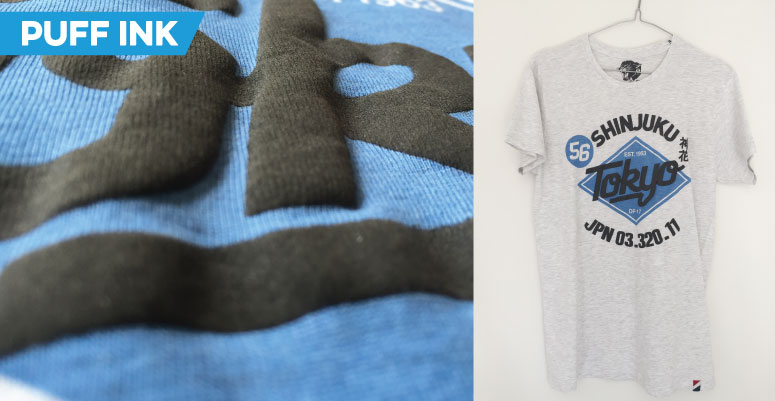 ---
What are the benefits of using Puff ink over High Density Prints?
The great benefit of using puff inks over it's high density big brother is cost and rounded edges to the print. The process of creating a high density prints is much more labor intensive, so this adds to the cost of the print effect. High density prints are created by printing layer upon layer of ink to build up the thickness of the finished artwork, with puff inks, only one layer of ink is required and the heating process does the rest of the work.
The Puff ink expands it gently rounds the edges of the design creating a marshmallow like effect. This rounded edging effect may work well for your intended design, however if you are looking for a more crisp sharp edged image you would be best to stick with a high density print.
As mentioned above in the Advantages of Puff Ink section, you can print multiple, different puff ink colors in the one design. Since high density prints are built up layer upon layer, in most cases you can only use high density with a one color design as the silk screen will no longer lay flat on the garment once the first high density print is complete.
Learn more about high-density in apparel design in our Definitive Designers Guide to High-Density Prints.

---
ART REQUIREMENTS:
Halftone: 20 lpi
Line Weight: 1pt minimum
Max Art Size: Check with print shop what the maximum art size is as this changes from factory to factory. As a rough guide, an A3 page size would equate to a large chest print for a men's garment.

Image File Types: Most print shops will accept .psd, .tif, .jpg, .gif and .png.

Vector Art File Types: Vector PDF, EPS, AI or CDR Files.
RECOMMENDED GARMENT/FABRIC:
Weight: 2.25 oz min – 10 oz max
PUFF INK GARMENT CARE INSTRUCTIONS:
When caring for garments printed with Puff inks we recommend the below wash instructions:

Turn the shirt inside-out.
Use a delicate wash cycle with cold water and a mild detergent.
Do not tumble dry.
Do not dry clean.
Do not iron on print.
---