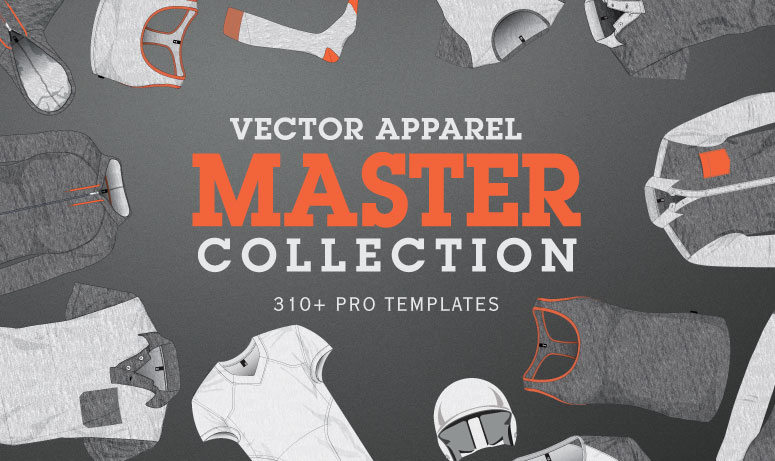 We've built, refined and launched our greatest collection of vector clothing templates to date. PrePress Toolkit Vector mockups are a fresh set of re-imagined clothing templates that allow for ease of editing and super quick deployment… but what makes a good clothing mockup great?

Welcome to the 310+ Apparel Mockup Templates – Vector Master Collection
Whether part of a design team, solopreneur, freelancer or, maybe you've been tasked by your boss to tackle all clothing designs on your own, one thing never changes, there is always another person you need to make understand what your vision for a finished garment is.
For centuries, humans have imparted our visions and stories to other humans through image, and we're still doing it today through drawings, diagrams, moving images, paintings and multitudes of other creative ways, after all, images contain a thousand words right?
Mockup templates are our way off getting that vision of a garment graphic into the minds of those that need to understand. These people/persons could be the client, a boss, other designers in your design team, a screen print and/or clothing factory etc.
At any stage of the design process you should be able to quickly throw that design onto a garment template of choice and visually see if the composition, colors, textures and art placement are working.
Anatomy of a good GREAT clothing mockup template
100% Editability
Made by Clothing Designers
Detailed stitching, hems, zips, pull strings
Layered
Compatibility: Illustrator (CS3, CS4, CS5, CS6, CC) Corel Draw (X3, X4, X5, X6,X7)
What's included in the Prepress Toolkit Vector Master Collection?
310+ Clothing mockup templates consisting of: front, back, side and angled front/back perspective view. Keep scrolling down for a full list of templates
Adobe Illustrator symbols library: Deploy any clothing template in seconds by simply clicking and dragging a template from the symbols library
Bonus heather grey fabric swatches
Bonus video tutorials: Getting Started Guide, Using the Symbols Library, Adding Heather Grey Fabric Textures
What software do I need for these mockup templates?
Our templates are built for use with Adobe Illustrator (CS3 and newer versions) and compatible with Corel Draw (X3 and newer software versions)
---
The Template Lineup
Men's Vector Apparel Mockup Pack – pro template series
[/vc_column_text][vc_single_image image="7839″ size="full" image_stretch="normalwidth" overlay="icon" item_link_type="magnific" link="https://prepresstoolkit.com/shop/entire-vector-apparel-mockup-collection/" link_target="_self" captions_below="hide" captions_below_link_type="item" caption_align="center" hover_filter="none" hover_filter_invert="image-filter-onhover" overlay_caption_vertical="middle" overlay_animation="fade-in" overlay_grid="0″ overlay_icon="link" margin_top="short-top" margin_bottom="short-bottom" scroll_animation="none" scroll_animation_delay="0″ onclick="custom_link"][vc_column_text margin_top="short-top" margin_bottom="short-bottom" scroll_animation="none" scroll_animation_delay="0″]
Men's clothing mockup templates
Men's T-Shirts: Raw Cut, Scoop neck, round neck, v-neck, regular, pocket t-shirt, henley and v-neck henley
Men's Singlets: Regular cut, racerback, pocket singlet
Men's Crew Neck Sweater
Men's Long Sleeve T-Shirt: regular cut and henley style (plus pocket add-on)
Men's ¾ Sleeve T-Shirt: regular cut and henley (with pocket add-on)
Men's Short Sleeve Shirt: Button up and unbuttoned versions
Men's Long Sleeve Shirt: Button up and unbuttoned versions, plus sleeves rolled up versions
Men's Polo Shirt: Button up and unbuttoned versions, Pocket Polo Shirt
Men's Pullover Hoodie: Hood up and Hood down versions
Men's Zip-up Hoodie: Hood up and hood down versions
Men's Hooded Long Sleeve T-Shirt
Men's Socks: Anklets, Mid-Calf and Over the calf versions
[/vc_column_text][button type="info" size="lg" label="Buy Men's Vector Clothing Templates Now!" link="https://prepresstoolkit.com/shop/entire-vector-apparel-mockup-collection/" link_open="_self" icon_position="right" animation="none" icon="" custom_color="false" text_font_color="#ffffff" margin_top="short-top" margin_bottom="short-bottom" scroll_animation="none" scroll_animation_delay="0″][vc_column_text margin_top="short-top" margin_bottom="short-bottom" scroll_animation="none" scroll_animation_delay="0″]
---
Women's Vector Apparel Mockup Pack – pro template series
[/vc_column_text][vc_single_image image="7312″ size="full" image_stretch="normalwidth" alt="womens apparel mockup templates vector master collection 04″ overlay="icon" item_link_type="magnific" link="https://prepresstoolkit.com/shop/entire-vector-apparel-mockup-collection/" link_target="_self" captions_below="hide" captions_below_link_type="item" caption_align="center" hover_filter="none" hover_filter_invert="image-filter-onhover" overlay_caption_vertical="middle" overlay_animation="fade-in" overlay_grid="0″ overlay_icon="link" margin_top="short-top" margin_bottom="short-bottom" scroll_animation="none" scroll_animation_delay="0″ onclick="custom_link"][vc_column_text margin_top="short-top" margin_bottom="short-bottom" scroll_animation="none" scroll_animation_delay="0″]
Women's clothing mockup templates
Women's T-Shirts: Scoop neck, round neck, v-neck, regular, pocket t-shirt, henley and v-neck henley
Women's Singlets: Regular cut, racerback, pocket singlet, shoestring, sports bra
Women's Crew Neck Sweater
Women's Long Sleeve T-Shirt: Regular cut and henley style (plus pocket add-on)
Women's 3/4 Sleeve T-Shirt: Regular cut and henley (with pocket add-on)
Women's Polo Shirt: Button up and unbuttoned versions, pocket polo shirt
Women's Pullover Hoodie: Hood up and hood down versions
Women's Zip-Up Hoodie: Hood up and hood down versions
Women's Socks: Anklets, mid-calf and over the calf versions
[/vc_column_text][button type="info" size="lg" label="Buy Women's Vector Clothing Templates Now!" link="https://prepresstoolkit.com/shop/entire-vector-apparel-mockup-collection/" link_open="_self" icon_position="right" animation="none" icon="" custom_color="false" text_font_color="#ffffff" margin_top="short-top" margin_bottom="short-bottom" scroll_animation="none" scroll_animation_delay="0″][vc_column_text margin_top="short-top" margin_bottom="short-bottom" scroll_animation="none" scroll_animation_delay="0″]
---
Vector Sports Apparel Mockup Pack – pro template series
[/vc_column_text][vc_single_image image="7311″ size="full" image_stretch="normalwidth" alt="sports apparel mockup templates vector master collection 05″ overlay="icon" item_link_type="magnific" link="https://prepresstoolkit.com/shop/entire-vector-apparel-mockup-collection/" link_target="_self" captions_below="hide" captions_below_link_type="item" caption_align="center" hover_filter="none" hover_filter_invert="image-filter-onhover" overlay_caption_vertical="middle" overlay_animation="fade-in" overlay_grid="0″ overlay_icon="link" margin_top="short-top" margin_bottom="short-bottom" scroll_animation="none" scroll_animation_delay="0″ onclick="custom_link"][vc_column_text margin_top="short-top" margin_bottom="short-bottom" scroll_animation="none" scroll_animation_delay="0″]
Sports Apparel mockup templates
American Football Templates: Jersey, pants and helmets (2 versions included)
Baseball Uniform Templates: Jersey, jersey with long sleeve t-shirt, baseball cap, baseball helmet, baseball pants, baseball bat
Soccer/Football Uniform Templates: Polo (with 2 collar versions), regular cut jersey, v-neck jersey, shorts and socks
Basketball Uniform Templates: Singlet jersey, shorts and basketball
Hockey Uniform Template: Jersey front, back and hockey helmet
Cheerleading Uniform Templates: Cheer top (5 versions), Skirts (6 versions)
[/vc_column_text][button type="info" size="lg" label="Buy Vector Sports Clothing Templates Now!" link="https://prepresstoolkit.com/shop/entire-vector-apparel-mockup-collection/" link_open="_self" icon_position="right" animation="none" icon="" custom_color="false" text_font_color="#ffffff" margin_top="short-top" margin_bottom="short-bottom" scroll_animation="none" scroll_animation_delay="0″][vc_column_text margin_top="short-top" margin_bottom="short-bottom" scroll_animation="none" scroll_animation_delay="0″]
---
Raglan Style Vector Apparel Mockup Pack – pro template series
[/vc_column_text][vc_single_image image="7310″ size="full" image_stretch="normalwidth" alt="raglan style mockup templates vector master collection 06″ overlay="icon" item_link_type="magnific" link="https://prepresstoolkit.com/shop/entire-vector-apparel-mockup-collection/" link_target="_self" captions_below="hide" captions_below_link_type="item" caption_align="center" hover_filter="none" hover_filter_invert="image-filter-onhover" overlay_caption_vertical="middle" overlay_animation="fade-in" overlay_grid="0″ overlay_icon="link" margin_top="short-top" margin_bottom="short-bottom" scroll_animation="none" scroll_animation_delay="0″ onclick="custom_link"][vc_column_text margin_top="short-top" margin_bottom="short-bottom" scroll_animation="none" scroll_animation_delay="0″]
Raglan Style mockup templates
Men's Raglan T-shirt Templates: Regular cut, raw cut, round neck, v-neck, henley and v-neck henley
Men's Raglan Long Sleeve T-Shirt
Men's Raglan ¾ Sleeve T-Shirt
Men's Raglan Zip-Up Hoodie (delete the pocket and zip and you have a raglan pullover hoodie)
Men's Raglan Crew Neck Sweater
Men's Raglan Hooded Long Sleeve T-shirt
Women's Raglan T-shirt Templates: Regular cut, round neck, v-neck, henley and v-neck henley
Women's Raglan Long Sleeve T-Shirt
Women's Raglan ¾ Sleeve T-Shirt
Women's Raglan Zip-Up Hoodie (Delete the pocket and zip and you have a raglan pullover hoodie)
Women's Raglan Crew Neck Sweater
[/vc_column_text][button type="info" size="lg" label="Buy Raglan Style Vector Clothing Templates Now!" link="https://prepresstoolkit.com/shop/entire-vector-apparel-mockup-collection/" link_open="_self" icon_position="right" animation="none" icon="" custom_color="false" text_font_color="#ffffff" margin_top="short-top" margin_bottom="short-bottom" scroll_animation="none" scroll_animation_delay="0″][vc_column_text margin_top="short-top" margin_bottom="short-bottom" scroll_animation="none" scroll_animation_delay="0″]
---
Hats and Caps Vector Mockup Pack – pro template series
[/vc_column_text][vc_single_image image="7307″ size="full" image_stretch="normalwidth" alt="hats caps mockup templates vector master collection 07″ overlay="icon" item_link_type="magnific" link="https://prepresstoolkit.com/shop/entire-vector-apparel-mockup-collection/" link_target="_self" captions_below="hide" captions_below_link_type="item" caption_align="center" hover_filter="none" hover_filter_invert="image-filter-onhover" overlay_caption_vertical="middle" overlay_animation="fade-in" overlay_grid="0″ overlay_icon="link" margin_top="short-top" margin_bottom="short-bottom" scroll_animation="none" scroll_animation_delay="0″ onclick="custom_link"][vc_column_text margin_top="short-top" margin_bottom="short-bottom" scroll_animation="none" scroll_animation_delay="0″]
Hats and Caps mockup templates
5 Panel Cap Templates: Top, side, front, under brim folded, multiple angled perspectives, multiple underside options.

Multiple back closure options: Plastic clip, snapback, velcro, metal clasp, metal buckle, metal belt

Flat Peak Cap Templates: Top, side, front, under brim folded, multiple angled perspectives, multiple underside options

Multiple back closure options: Plastic clip, snapback, velcro, metal clasp, metal buckle, metal belt

Round Peak Cap Templates: Top, side, front, under brim folded, multiple angled perspectives, multiple underside options

Multiple back closure options: Plastic clip, snapback, velcro, metal clasp, metal buckle, metal belt

Foam Mesh Trucker Cap Templates: Front, angled, side, underside and back options in both snapback and FlexFit styles
Military Cap Templates
Sports Visor Templates
[/vc_column_text][/vc_column][/vc_row][vc_row][vc_column align="center" align_sm="default" scroll_animation="none" scroll_animation_delay="0″ width="1/1″][button type="primary" size="lg" label="See The Full Range Of Templates Here" link="https://prepresstoolkit.com/shop/entire-vector-apparel-mockup-collection/" link_open="_self" icon_position="right" animation="none" icon="" custom_color="false" text_font_color="#ffffff" margin_top="short-top" margin_bottom="short-bottom" scroll_animation="none" scroll_animation_delay="0″][/vc_column][/vc_row]