In this definitive designers guide to metallic inks, we cover: creating a metallic ink effect in Adobe Illustrator, screen printing with metallic inks, proper garment care instructions and there's even a free high-resolution metallic ink texture giveaway.
Section quick links
The Short On Metallic Ink.
Metallic ink is a high gloss plastisol ink which contains real metallic particles to give it a shiny, metallic appearance. Metallic inks can sometimes be mistaken for glitter inks or foil prints, but knowing the difference between all three is a necessity. In this post we explore these differences in more depth below.
Once screen printed it's obvious the differences in textures and look of all three inks. Foil prints are the smoothest and shiniest of the three, glitter inks feel very coarse to the touch and metallic inks sit nicely in the middle as they're not too rough or overly shiny yet still maintain an impressive metallic look. Metallic inks are also much less expensive to print than foil prints.
Why less expensive than foil? Well, that's because foil prints are a two step process. First, the design is screen printed onto a garment using adhesive inks, then a sheet of gold foil is placed over the design and heat pressed to bond the foil to the adhesive ink. Check out 'Gold Foil: The Definitive Designers Guide' for a more in-depth explanation.
---
Create a Metallic Ink Effect In Illustrator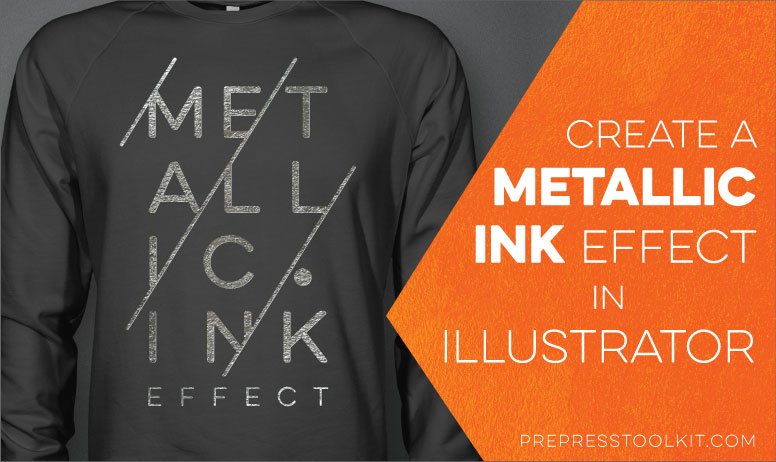 What you'll need:
A Metallic Ink Texture
Adobe Illustrator (we're using Illustrator CC)
[convertkit form=4942782]
Tutorial Difficulty Level: Piece of cake, you've got this!
Step 1 of 4
Get a texture
Download a metallic ink texture of your choice. We're using a printed metallic ink texture hand crafted by us. You can download our high resolution texture free by clicking the big blue link above. (You'll get the chance to sign-up for PrePress Toolkit insights and special VIP deals too!)
Step 2 of 4
Add artwork
With the texture opened in Adobe Illustrator it's time to create your design. This could be a simple font, a logo or a picture. It's up to you! The only thing we need to make sure is that the artwork is vector based and doesn't contain any jpg or bitmapped images. Once you have your design, place it on top of the metallic ink texture. For this tutorial we created a custom typography design using a font called Eveleth.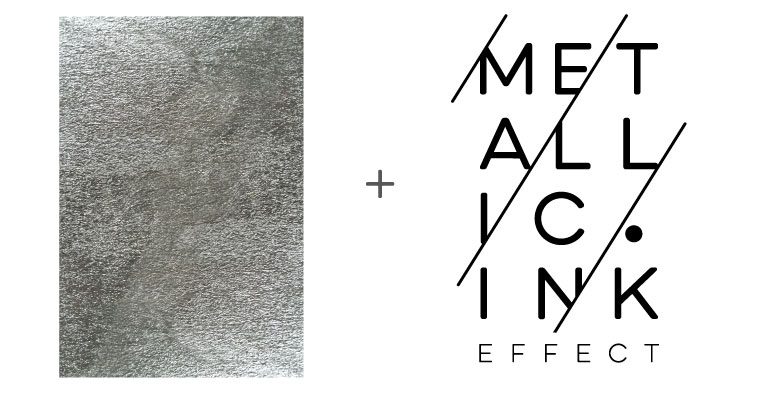 Step 3 of 4
Create a Compound Path
If your artwork is a simple shape or font you can skip this step, otherwise if your design is more complex (like ours is) you will need make your vector artwork into a Compound Path before moving onto the final step. To create a compound path select your artwork and expand all paths by going to Object > Expand Appearance, then go to Object > Expand. Once the artwork has been expanded and with all paths selected, go to Object > Compound Path > Make.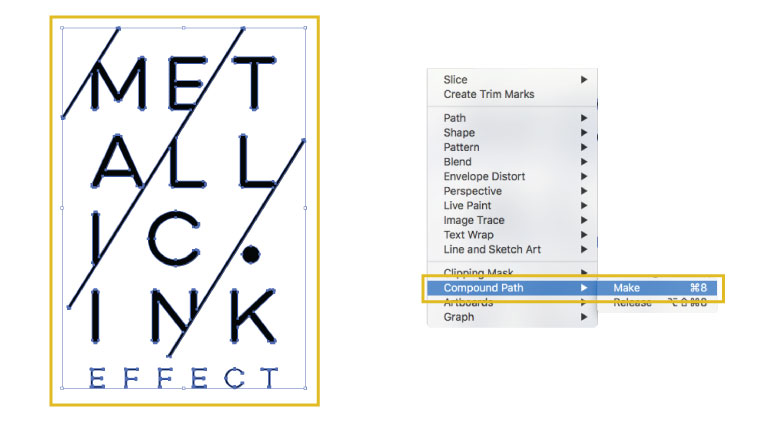 Step 4 of 4
Reveal the bling with a mask
Select both the artwork and the metallic ink texture with the direct selection tool, right click and select 'Make Clipping Mask'. You can also use the shortcut Command + 7(Mac) Control + 7 (Win)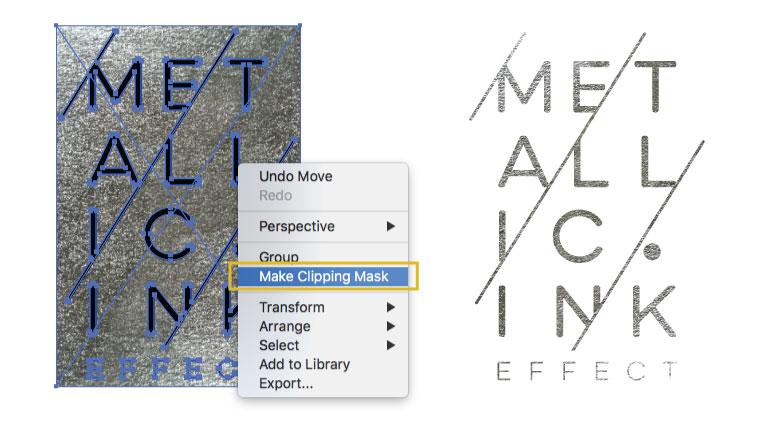 Bonus Step
BONUS Step – Colored Metallic Inks
You can achieve a wide variety of colored Metallic Ink Effects with one extra step.
Copying the original design on top of the newly created Metallic Ink artwork, then color the original artwork any color you wish and set the transparency for the object to color, leave the opacity at 100%. With this technique we created a Metallic Gold, Metallic Blue, Metallic Green and Metallic Pink effect, pretty 'effective'!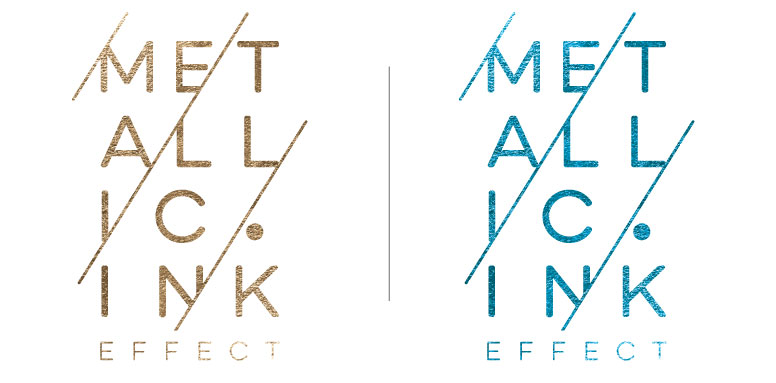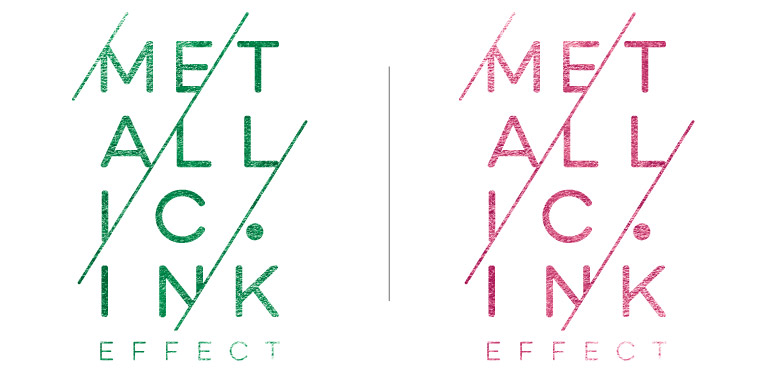 ---
Designing For Metallic Inks
Metallic inks contain real metallic particles, these particles require a coarser silk screen printing mesh to allow the particles to pass through. This more coarse mesh results in some fine detail loss during the screen printing process so when creating a garment graphic with metallics in mind, it is a good rule of thumb to have no fine details less than 2 points.
As the saying goes, "you're only limited to your imagination" in terms of what you can achieve with incorporating metallic inks into your garment graphics. The obvious choice would be for logos or graphics that are trying to replicate metal, say for instance a tin can or, a company logo for businesses that use metal. Creatively, I've seen amazing design where metallic inks were used for highlighting features on things like wings or feathers, or as pops of interest within repeated patterns etc… There really is no limit to using metallics to the best of your advantage and thinking outside the box can yield some amazing garment graphics, that can truly set your design apart from others.
Pros:
Cheaper alternative to foil applications.
Smoother print finish than glitter inks.
Plastisol ink based so the cured inks are very robust and hard wearing.
Available in a surprising amount of different colors.
Cons:
Design wise, metallic inks are not good for fine detailed artwork.
Regular plastisol based metallic inks have a rubbery hand feel.
---
Available Metallic Ink Colors
There are many different screen printing ink manufacturers who all have their own color, tints/shades as well as different names for each metallic ink color. An example of this would be Electric Green which is a metallic green ink created by Excalibur Inks. From a graphic designer's point of view (concluded from my own experience working for both screen printing factories and large clothing companies) it's best to use the Pantone color system when selecting any color for your designs and then let the screen printing facility match the Pantone color you selected, to the inks they use at their print shop. If a screen printing factory doesn't have a specific pre-made ink ready to go, they can replicate the Pantone color from scratch by mixing certain color inks together.
Tip:Pantone Metallic color swatches can be found in Illustrator by navigating to the swatches panel. Click on the top right hand menu icon in the swatches panel and a drop down list will appear. Select Open Swatch Library > Color Books > PANTONE+ Metallic Coated

Pantone 873 – Metallic Gold
Pantone 877 – Metallic Silver
Pantone 8003 – Metallic Platinum
Pantone 8021 – Metallic Champagne Gold
Pantone 8062 – Metallic Pink
Pantone 8100 – Metallic Purple
Pantone 8201 – Metallic Blue
Pantone 8281 – Metallic Green
Pantone 8381 – Metallic Moss
---
Metallic Ink Garment Care Instructions
The washability of garment graphics containing metallic inks is excellent. When caring for garments printed with metallic inks we recommend the below wash instructions:

Turn the shirt inside-out.
Use a normal or delicate wash cycle with cold water and a mild detergent.
Do not dry clean.
Do not iron on print.
---