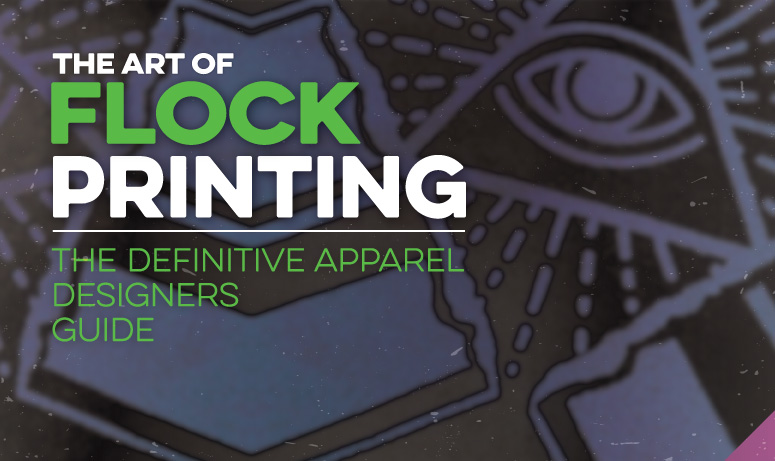 ---
Did you know that some factories electrify t-shirts to create a flock t-shirt graphic? Me neither!
There are three ways (that we know of) to produce a flock print on a t-shirt or garment. In this definitive designers guide to flock printing t-shirts we will go over the differences, art requirements, available colors and best practices for flock printing from a graphic/apparel designer's point of view, but before that, what is flock or flocking?
What is Flocking or Flock Printing?
Flock is a substance made of short fibers, these short fibers can be made up of cotton, rayon, wool and other natural or synthetic fibers.
Flocking is the process of applying the flock fibers to an adhesive surface. In this case we are focusing on garment printing such as t-shirts, hoodies, hats etc.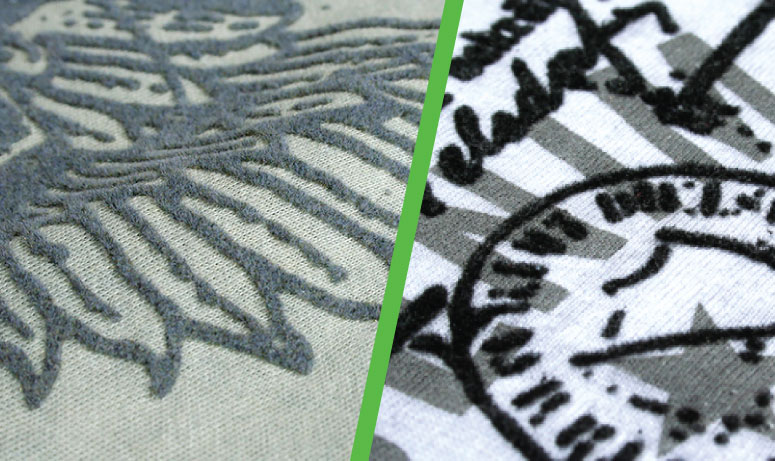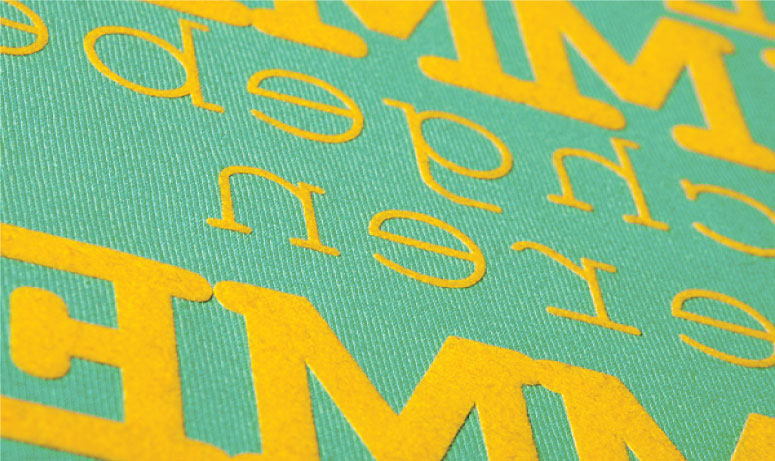 How to flock print t-shirts (or any apparel garment)
As we mentioned earlier there are three ways to add flock to a t-shirt graphic, all three methods are centered around printing the desired graphic onto the garment with adhesive ink, it's in the actual flocking part of the print process where things differ greatly. Each method has its pros and cons so let's take a look.
>> METHOD ONE: Flock Transfers
In this method, the sections of the artwork needing to be flocked are first screen printed onto the garment with an adhesive ink. The ink is then dried to the touch with a flash cure unit. The second process is, a sheet of flock transfer paper is placed overtop of the printed adhesive ink and then heat pressed. The high temperatures created by the heat press, melt the adhesive ink bonding the flock fibers to the t-shirt. The garment is then given time to cool down allowing the adhesive to set, then the sheet of flock is peeled away from the t-shirt, revealing the newly flocked graphic.
Note: This method only allows for a one color design.
>> METHOD TWO: Flock stencil cuts
In this method, the design is die cut from a sheet of special flock card on a computer driven, vinyl cutting machine. The special flock card contains an adhesive layer between the card and the flock itself. Once the design has been cut from the card, the paper backing is peeled off and then heat pressed onto the garment in the correct position. The high temperatures of the heat press, melt the adhesive bonding of the flock design to the t-shirt.
This method is great for designs which contain multiple colors as the process of method one will only allow one color.
Note: Check with your printing factory as to how many colors you can have in the one design as there is usually a limit of two to three. Also note that cutting and heat pressing multiple colors is time consuming and will incur a higher production cost.
>> METHOD THREE: Manual Flocking
This process of flocking a garment is usually used by large production factories and is an amazing process once you see how it works.
Like method one, a graphic is first screen printed onto the garment with adhesive ink. However, unlike method one, things get a little electrified here. While the adhesive is still wet a machine filled with flock fibers is placed over the printed design, the flock is then given a negative charge whilst the fabric is earthed. The flock fibers fly vertically onto the fabric and get stuck to the wet adhesive image like metal drawn to a magnet.
Here is a short video of the flocking machine in action.
For a printing factory this process is much less labor intensive and produces less waste.
Flock – Appearance and Surface Feel
To the touch, flock has a velvety, fuzzy, plush hand feel. It comes in a basic range of colors (see the Available Colors sections below). Due to the way flock is printed, the finished printed design is slightly elevated from the garment.
Available Colors
Flock transfers come in a range of basic colors. We have created a quick reference guide for you below that shows the most common colors and their closest Pantone color system matches.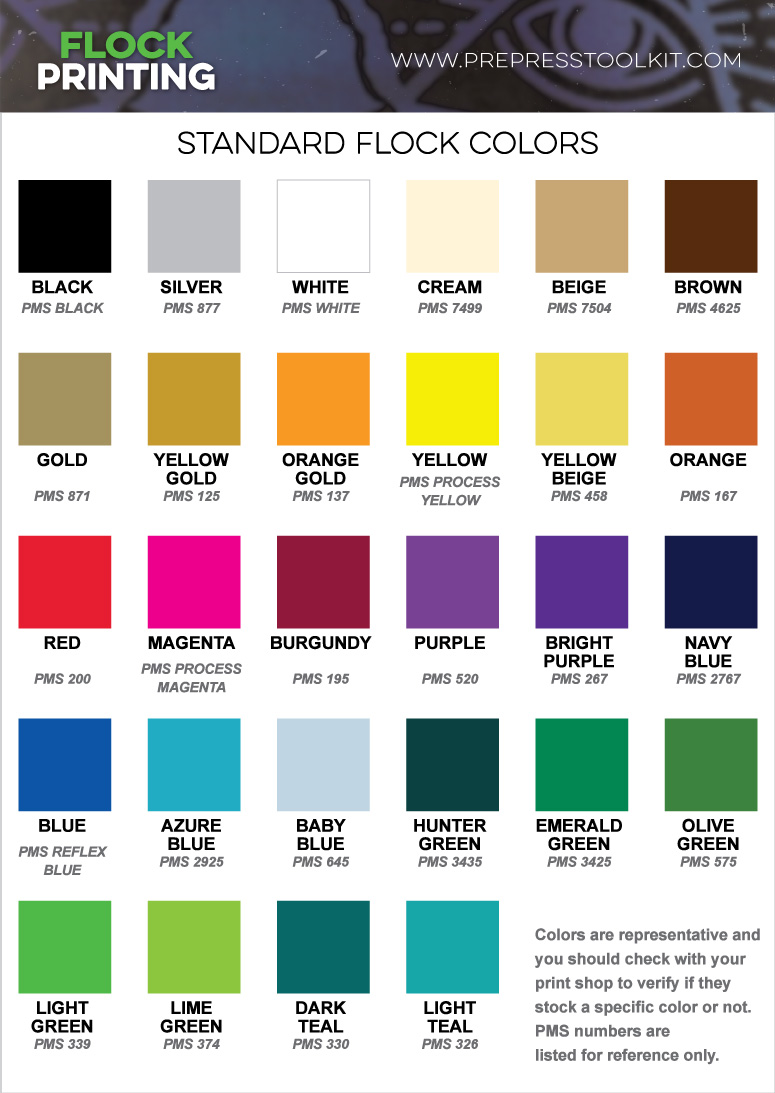 ART REQUIREMENTS:
Halftone: NO HALFTONE fine detail will not work.
Line Weight: 1pt minimum
Max Art Size: Maximum art size will depend on the size of the heat press or manual flocking machine, please consult your printing facilities art department for maximum art sizes
Max Number of colors: Usually 3
Image Resolution: Stick to vector based art.
Vector Art File Types: Vector PDF, EPS, AI or CDR Files
Flock can be printed alongside other colors as long as they are water based inks. Due to the heat pressing process, plastisol inks will re-melt and stick to everything…and we mean EVERYTHING.
RECOMMENDED GARMENT/FABRIC:
We recommend using 100% cotton garments or 50/50 cotton/poly blends.
FLOCK PRINTING CARE INSTRUCTIONS:
When caring for garments flocked prints we recommend the below wash instructions:

Turn the shirt inside-out.
Use a delicate wash cycle with cold water and a mild detergent.
Tumble dry on low.
Do not dry clean.
Do not bleach.
NEVER iron on print.
---
---